Follow me on Twitter
Find me on Facebook
© photo copyright Carrie Boyko 2009
Christmas Pillows Make Nice Gifts
This year's unfortunate fall events have left me a bit behind. I'm resorting to old standby ideas for my holiday gift giving. While I sit here for several days supervising the repiping of my home, I am busy making Christmas gifts for family and friends. Some of them are on this list:
1--Handmade Christmas pillows stuffed with reused stuffing from old pillows.
2--Organic cotton towels--no more drying off with cotton that is embedded with pesticides and herbicides.
3--A basket of natural or homeopathic cold remedies for the cold and flu season
4--Home-baked, organic goodies: Check my list of recipes below.
5--Handmade Christmas ornaments or decorations from reused items. The mini Christmas trees at right are made from the chiseled pine cones that my resident squirrels abandon in my yard.
6--A harvested seedling tree, transplanted into a pot for loving care in a safe location. You can even add a bag of compost for occasional soil enhancement.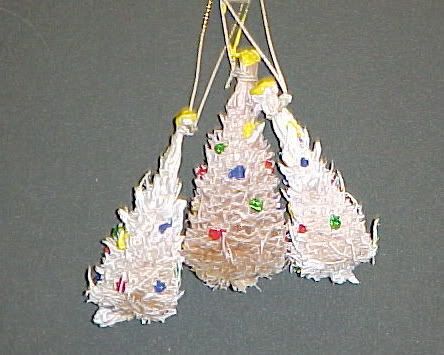 7--A homemade toy for a dog. Check out mine at the link.
8--A sustainable bamboo cutting board for cooking.
9--A spice rack full of organic seasonings.
10--A recipe box with all your favorite organic creations.
Finally..........give your gift in a reusable shopping bag. Try a Chicobag in the color of your choice for added impact. Add some ribbon or a bow and you're in business.
(c) photo copyright Carrie Boyko 2008
A Good Carry-Along for Shopping
Happy New Year everyone!
Organic Recipe Posts: